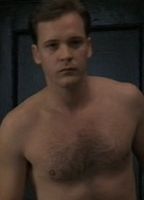 Keywords: Great Nudity!, White, Blond Hair
Nude Roles: 6
Birthplace: Belleville, Illinois, US
Date of Birth: 03/07/71
Real Name: John Peter Sarsgaard
Top Scenes
01:04:04

Peter bares post-poke ass while he and Campbell cuddle. (1 min 4 secs)
advertisement
Biography
Peter Sarsgaard is one of those actors everyone recognizes, but many people don't know his name. He has quietly put together a career that that has spanned nearly two decades and is filled with some amazing, impressive movies. Along the way Peter has had a pretty casual attitude towards nudity and does not shy away from it.
The Center of the World (2001) features Peter letting it all hang out - literally. In one scene he walks past a door giving us a great view of his shortly trimmed bush and dangling dong. During a love scene his co-star uses an ice cube on his cute crack as they share an intimate moment then later in the movie there is a full rear view as he walks around a bedroom bottomless. A few years later he played Clyde in Kinsey (2004) and went full frontal again. This movie is filled with sex and nudity and Peter leads the way in two separate scenes where we see him completely naked. His chest is hairy and here he sports a thick bush. The picture is so clear there is no question Peter is circumcised. In 2008's The Mysteries of Pittsburgh Peter has a couple of pretty explicit sex scenes that produce some great shots of his thrusting, tight tush.
Peter's daring attitude towards the roles he takes hasn't seemed to change with age so it is likely safe to say we have not seen the last of the sexy Mr. Sarsgaard naked.