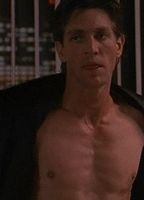 Keywords: Brief Nudity, White, Brown Hair
Nude Roles: 3
Birthplace: Biloxi, Mississippi, US
Date of Birth: 04/18/56
Real Name: Eric Anthony Roberts
Top Scenes
02:50:55

Eric Roberts is hanging out shirtless by the fire. (43 secs)
advertisement
Biography
Eric Roberts might be the hardest working man in show business, often appearing in more than ten projects per year. He has been in everything from the hit TV show Heroes to The Dark Knight (2008) to Runaway Train (1985), which netted him an Oscar nomination. While he isn't known for doing a lot of nudity, he is the kind of guy that is known to go for it so his buns have made it to the screen on several occasions.
In Freefall (1994) he has a couple of different sex scenes including one on a mountain that features his ass doing work.  That same year he gives a reartastic performance in Sensation (1994) where he has no fewer than four nude scenes. His famous round mounds get a lot of screen time as he gets in and out of bed with a few different women. He gives us a glimpse of his little Batman during a love scene in Stiletto Dance (2001) where he lays naked, face down, on the bed after sex. When he rolls onto his side to talk to his girlfriend there is a quick, somewhat dark shot of his dong. Pause at just the right time and enjoy.
Eric has never shied away from controversy even admitting that when he was seventeen and studying acting in London he was offered a role in a porn movie and took it because the girl he was going to be with was too hot to turn down. With a Skinattitude like that I don't think it will shock anyone if he ends up nude on screen again.