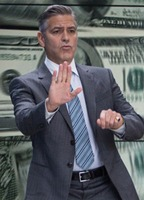 Keywords: Brief Nudity, White, Gray Hair
Nude Roles: 3
Birthplace: Lexington, Kentucky, US
Date of Birth: 05/06/61
Real Name: George Timothy Clooney
Top Scenes
00:27:40

In a brief and darkly lit scene, George makes out with his girlfriend. (18 secs)
advertisement
Biography
Language fails us miserably when we try to put the inconceivable hunkitude of George Clooney into words. Saying that George Clooney is a hunk is like saying that Mt. Everest is an elevation or that the Grand Canyon is a hole in the ground. And yet there is no other word to describe him. He is the hunk against which all other hunks are measured. He is Hunkasaurus Rex.
The nephew of gay icon Rosemary Clooney, George spent his early career playing small but memorable parts on Roseanne and in the 1988 cult classic Return of the Killer Tomatoes. But as the saying goes, there are no small parts… especially on George Clooney!
In 1994 the salt-and-pepper super stud was cast as Dr. Doug Ross on NBC's smash hit medical drama ER. Call the ambulance, we're having a heart attack! In 1999, he left the show to pursue a movie career and played a sword-boat captain in 2000's The Perfect Storm. But the real perfect storm came when George formed a cream dream team with Brad Pitt, Andy Garcia, Matt Damon, and John Cheadle for the 2001 remake of the Rat Pack classic Ocean's Eleven. If Ocean's got eleven, we want to see it!
He finally showed off his underwear in Out of Sight where his package is in our sight. We saw his ass in The Men Who Stare At Goats...um, no we're staring at his peach. George continued his streak of ass-forward roles in Solaris and The American when he showed his booty like a true patriot. 
George has won Emmies, Oscars, and Golden Globes, and has been actively involved in political and humanitarian causes around the world. But nothing sums him up like the sage pronouncement of TV Guide in 2005 that George Clooney is the Sexiest Star of All Time. Amen!