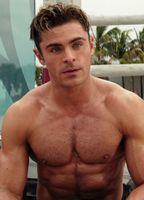 Keywords: Great Nudity!, White, Brown Hair
Nude Roles: 5
Birthplace: San Luis Obispo, California, US
Date of Birth: 10/18/87
Real Name: Zachary David Alexander Efron
Top Scenes
Matthew McConaughey lays bare-ass-up on a hotel room floor. He's spread-eagled and bound with cuffs and—warning—there's blood everywhere. (1 min)
advertisement
Biography
Zac Efron has been a teen heartthrob since he made his debut alongside Ashley Tisdale and Vanessa Hudgens in the Disney Channel's spectacularly successful tween franchise High School Musical, beginning in 2006.
Before HSM, Zac's previous television acting experience including bit parts in Firefly, ER, and The Guardian and a regular role as Cameron Bale on the WB series Summerland. In 2007, after High School Musical made him a household name, People magazine wisely listed Zac as one of its 100 Most Beautiful People.
That same year, Zac was cast in the acclaimed film adaptation of the Broadway musical version of John Waters's 1988 cult classic Hairspray. And in 2009, he starred in 17 Again, where Matthew Perry's consciousness gets to possess his teenaged body. You make us sick, Matthew Perry. Zac went to net a slew of Teen Choice nominations for his performance in Charlie St. Cloud (2010) and won serious acclaim for his appearance with megahunk Matthew McConaughey in the 2012 thriller The Paperboy. If you're wondering if you can get a little Zac sac in your life, the answer, at least after the release of comedy Dirty Grandpa (2016), is "Well, kinda but not really!" In one of the most highly anticipated peen scenes on the big screen, Zac reveals dong and side ball when he loses his makeshift codpiece. However Dirty Grandpa director Dan Mazer claims that a CGI penis was superimposed over a nude thong in order to create this frontal scene. Seems like a lot of work... and a big fat lie! Kidding. 
We were the lucky ones to watch Zac show his ass in The Lucky One (2012) and things got a little awkward when we saw his buns again in That Awkward Moment (2014). Kidding, of course! The only awkward thing about Zac is when he keeps his clothes on. He's only gone shirtless in Mike & Dave Need Wedding Dates (2016), Neighbors (2014), and Baywatch that showed him running on the beach in his bathing suit. Look at that bulge! Now he was shirtless with Bear Grylls for his outdoor show, but it's an incredibly erotic episode. We highly suggest watching it to see the clear sexual attraction between these two. He also wore his underwear in We Are Your Friends. With a bulge like that, we hope he is our friend! And you've got to check out Zac's killer performance as Ted Bundy in 2019's Extremely Wicked, Shockingly Evil and Vile. He shows off his acting chops as the notorious serial killer, but more importantly he shows his muscular ass in multiple scenes! Zac will make you unload your sac!