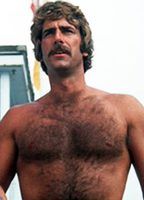 Keywords: Brief Nudity, White, Gray Hair
Nude Roles: 2
Birthplace: Sacramento, California, US
Date of Birth: 08/09/44
Real Name: Samuel Pack Elliott
Top Scenes
01:11:57

Sam shows a patch of pubes when he shows off his scar. A little bit lower would've been just fine! (7 secs)
advertisement
Biography
With a career that has spanned more than 30 years and dozens of movies and TV shows including iconic films like Gettysburg (1993), The Big Lebowski (1998) and Tombstone (1993) Sam Elliot is a fan favorite and one of the most recognizable faces and voices in American cinema. While you might not think of him as a sex symbol, he has a presence, charisma and rugged good looks that for millions around the globe are very much a turn on.
Sam has only had limited exposure when it comes to on-screen nudity, but there are a few stand out moments. In Lifeguard (1976) a younger Sam Elliott spends much of the movie wearing little more than a Speedo, showing off his squeezable buns and considerable bulge. It is safe to say he brought a big gun to the O.K. Corral. Roadhouse (1984) features a scene where Sam unzips his pants to show off a scar. He moves his junk to the side, but there is a very clear view of his ample bush as the scar is displayed. It was 1996's The Legacy where Sam let it all hang out. In one scene a then 34-year-old, and still in very good shape, Sam walks naked across a room and gets into the shower. His bitchin' buttocks fill the screen in all their glory.
Sam is still going strong making movies almost every year and recently was nominated for various awards for his work in Up in the Air (2009).  Here's to three more decades of being a badass!