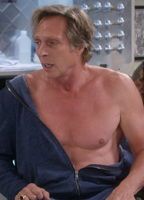 Keywords: Brief Nudity, White, Brown Hair
Nude Roles: 1
Birthplace: East Meadow, New York, US
Date of Birth: 11/27/56
AKA: Bill Fichtner
Real Name: William Edward Fichtner, Jr.
Top Scenes
01:13:29

William gives us an extended look at his backside and body. With the help of your pause button, you can catch a glimpse of William's balls. Good times! (1 min)
advertisement
Biography
William Fitchner is a uniquely handsome actor with an unbeatable talent for capturing the essence of the various characters he portrays — on film (Contact, Black Hawk Down, The Dark Knight, The Longest Yard, Teenage Mutant Ninja Turtles); on TV (As the World Turns, Empire, Entourage, Grace Under Fire, Invasion, The West Wing); and in video games (Call of Duty, Grand Theft Auto, Turok). After making his movie debut in Robert Redford's retro-set drama Quiz Show (1994), William appeared alongside Al Pacino and Robert De Niro in Heat (1995); Bruce Willis and Ben Affleck in Armageddon (1998); and George Clooney and Mark Wahlberg in The Perfect Storm (2000). By 2004, the prolific performer won a SAG award for his ensemble work in the Oscar-winning motion picture Crash. More importantly, William has a great ass! If you want to check out Bill's backside (and a bit of balls), go see Go (1999). Equal parts comedy, thriller and action flick, the R-rated movie showcases Mr. Fitchner's flesh. Not only does the skintastic stud display his naked T&A, he reveals his same-sex preference for Timothy Olyphant and Scott Wolf! In addition to training at New York's American Academy of Dramatic Arts, Will earned a degree in criminal justice from the College at Brockport, State University of New York. Perhaps that's why he's lent his arresting presence to the crime shows Prison Break (2006-2009) and Crossing Lines (2013-2014). Of course, we prefer Bill's shirtless turns on the sitcoms Corporate (2020) and Mom (2016-2021). Come to Daddy!
Filmography
01:13:29

William gives us an extended look at his backside and body. With the help of your pause button, you can catch a glimpse of William's balls. Good times! (1 min)
TV Shows
Mom (2013-2019) - as Adam Janikowski