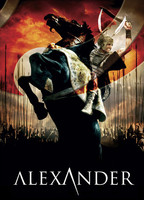 Director:

Oliver Stone

MPAA Rating:

R

Runtime:

175 Minutes

AKA:

Alexander Revisited: The Final Cut

Theatrical Release:

11/24/2004

Countries:

France, Germany, Italy, Netherlands, United Kingdom, USA
Oliver Stone's Alexander (2004) is a crazy, wild, violent, inspired and very naked telling of the story of Alexander the Great, one of the greatest military leaders in history. This film is filled with battle scenes and love scenes and is led by the smoldering hot Colin Farrell who gives it every inch of his being.
Throughout the movie Colin is shirtless and is often showing his legs, arms and plenty of skin. He also has no shortage of hot love scenes and nude scenes. You will feel the...
Join Mr. Man for the full Review >>
Top Scenes
Celebs
Titles similar to Alexander