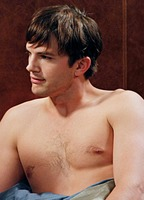 Keywords: Brief Nudity, White, Brown Hair
Nude Roles: 6
Birthplace: Cedar Rapids, Iowa, US
Date of Birth: 02/07/78
Real Name: Christopher Ashton Kutcher
Top Scenes
Ep. 01x03 | 00:16:00

A young and fine Ashton Kutcher strips off his trench coat to reveal a truly groovy bod! (8 secs)
advertisement
Biography
With his chiseled features and sculpted body, Ashton Kutcher was destined to not stay too long in his hometown of Cedar Rapids, Iowa. After coming in second a modeling competition to the equally drool-worthy Josh Duhamel in 1998, Ashton signed on to become a model and started flashing his abs and bulging package for Calvin Klein from New York to Milan. Later that same year, he auditioned for the Fox sitcom That 70's Show and was cast as dull-witted but devastatingly handsome boy-toy-next-door Michael Kelso.
Ashton's success on That 70's Show launched his career as an actor and he began starring in movies like the 2000 stoner comedy Dude, Where's My Car?  We don't know Ashton, but why not try looking for it without your pants! In 2003, Ashton became the host and producer of MTV's popular celebrity pranking show Punk'd. But the biggest joke of all seems to have been his six-year marriage to the 16-years-older Demi Moore, which ended in 2011. Punk'd! It took some doing, but we were finally able to capture a glimpse of Kelso's swell-so when he slipped out of some loose undies in The Butterfly Effect. You'll be feeling the effects of that one for a long time! Speaking of effects, we get to see more of Ashton's ass crack and a blurry bit of his abs when he does pushups in the movie Personal Effects (2009). We've love to feel the Personal Effects of Ashton up close and personal! 
In Spread (2009), we want to Spread our legs for his shirtless bod and a scene that shows grown up Kelso hanging out on the couch in his undies. There are No Strings Attached (2011) when he is naked in this sex comedy, but covering his junk with a towel. We want to pull that off by the string and see his man meat! Ashton has found more mainstream success by starring in the Netflix series The Ranch (2016) which features several shirtless shower scenes and some steamy makeouts in his boxers, but takes more raunchy risks in the CBS sitcom Two and a Half Men (2011). Not only does he share a gay kiss with Jon Cryor at the altar in one episode, but he bends over pantsless for a rectal exam. That nurse is one lucky lady to be so up close and personal to ASSton!