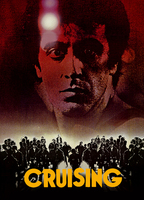 Director:

William Friedkin

MPAA Rating:

R

Runtime:

102 Minutes

Theatrical Release:

02/15/1980

Home Release:

09/18/2007

Countries:

Germany, USA

1 Blog Post for this Title >>
Al Pacino is a young cop who goes undercover into the gay subculture of New York in Cruising (1980).  Someone is killing gay men using S&M tactics so Pacino's Steve Burns is sent in as a decoy to lure the killer into the open. He must learn the signals, practices and haunts of the leather world, while being almost completely cut off from the Department and his girlfriend.  Along the way, his new behaviors start to change him. 
There is more sex and skin in this movie than you can shake...
Join Mr. Man for the full Review >>