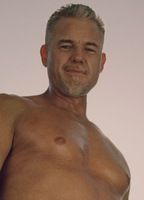 Keywords: Brief Nudity, White, Blond Hair
Nude Roles: 2
Birthplace: San Francisco, California, US
Date of Birth: 11/09/72
Real Name: Eric William Dane
Top Scenes
00:29:20

Eric hits the beach to show off his built body. (1 min 9 secs)
advertisement
Biography
You might know him as McSteamy from Grey's Anatomy or from his roles in Marley & Me (2008) or X-Men: The Last Stand (2006), but no matter where you know him from you likely know Erc Dane as a very sexy guy.
So far we have found ourselves a little starved for some Eric Dane nudity, but there is one movie where he pulls out all the stops and serves up a five-course gourmet meal of hotness. That movie is Open Water 2: Adrift (2006). Much of the film takes place in the water while the couple is on vacation. In one scene he swims in a pool. As he splashes around there is a great shot of his tight butt and dangling balls from behind. Throughout the movie, he spends most of his time naked, but near the end, there is a full-frontal shot. It is an episode of Dane's Anatomy as he dives deep with his heavy sausage swimming freely with him. Dane's Dong is back (sort of) in an episode of the HBO show Euphoria. In a scene with Hunter Schafer, we get a full-frontal shot of him. It's a little blurry and he is reportedly using a prosthetic, but it looks pretty damn real to Mr. Skin! In a different episode, he rocks out with his (likely fake) cock out when he unzips and pulls out in front of a woman. Throughout the series, Mr. Dane is shirtless a lot and shows off some side booty in a sex scene. It's safe to say Eric's nudity on Euphoria will have you feeling a euphoric rush of blood to the naughty parts of your body!
Eric now seems to be focusing more on doing movies so that means there is a decent chance we will get to see his little Dane of Hottington again soon.
Filmography
00:52:45

Eric Dane's butt and butthole are on display as he swims the ocean blue. (40 secs)
01:12:31

Eric's butt is on display in this darkly lit scene. (29 secs)
TV Shows
Ep. 01x01 | 00:33:05

Eric Dane's erect (prosthetic) penis is the star of this sex scene. (45 secs)