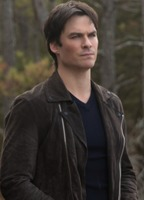 Keywords: Brief Nudity, White, Brown Hair
Nude Roles: 1
Birthplace: Covington, Louisiana, US
Date of Birth: 12/08/78
Real Name: Ian Joseph Somerhalder
Top Scenes
00:38:06

Ian shows bulge in his box briefs while playing dress up in front of a mirror. (37 secs)
advertisement
Biography
Ian Somerhalder is one of the hottest young actors working in Hollywood today. He is most known for his role as Damon on The Vampires Diaries or as Boone from Lost, but he has also been in a number of films and has found his way out of his clothes on a few different occasions.
The talented actor first took a bite out of the on screen nudity pie in The Rules of Attraction (2002). He isn't nude in this movie, but there are two scenes where he dances around wearing nothing but some form fitting boxer briefs. His body is a work of art and his cute undies enhance his business in all the right ways. 2007's Tell Me You Love Me showed that while Ian may have had a brief stint on Smallville his Johnson is anything but small. His very explicit sex scene in this movie shows Ian hooking up with his girlfriend and doing all sorts of naughty things to her. There is an asstastic view from behind as he goes down on her then as he rolls onto his back and has her get on top of him there is a clear shot of his erect rod standing at attention.
Ian is very relaxed about on screen nudity explaining that after a few days of being naked on the set he is very close to crew. It also affords him the opportunity to play some naked pranks. Sounds like Ian Somerhalder is Skintastic to work with!
Filmography
TV Shows
Ep. 01x08 | 00:16:38

Ian shows some butt during a steamy sex scene with his girlfriend. The peen is a prosthetic. What a tease! (1 min 57 secs)
Ep. 01x06 | 00:07:00

Ian Somerhalder gives us generous of helping of ass and a not so generous shot of his prosthetic peen. (2 mins 28 secs)