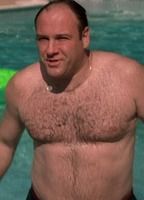 Keywords: No Nudity, White, Brown Hair
Birthplace: Westwood, New Jersey, US
Date of Birth: 09/18/61
Date of death: 06/19/13
Real Name: James Joseph Gandolfini Jr.
Top Scenes
Ep. 02x11 | 00:40:45

James loses his boxers to bang the heck out of a lucky girl. It's just some bare legs, but we like his style! (20 secs)
advertisement
Biography
The phrase "larger than life" is a good way to describe James Gandolfini, especially knowing the talented force is no longer with us. This New Jersey-born actor rose above his middle class upbringing to make a name for himself in the world of entertainment. With his immense physique, tough guy talk, and no-nonsense approach to the world, James was a natural fit as a mobster in the films True Romance (1993), Terminal Velocity (1994), Get Shorty (1995), and The Juror (1996). All of these mob-related parts primed him for the role of his life, playing the incomparable Tony Soprano on the HBO crime drama series The Sopranos from 1999-2007. Though James thrilled us with his ability to embrace the variety of emotions that his heavy-hitter character displayed, he gave us an even bigger thrill when he showed off his teddy-bear physique in multiple scenes of underwear-clad fun. These shirtless flashes made us want to do more than just cuddle with the husky hottie, although admittedly, Mr. Man would have been just fine being wrapped in his massive arms for a long hug. As we left Tony sitting in that diner at the end of the series, and James with three Primetime Emmy Awards, we knew it wouldn't be the last we saw of him. We loved him as Mickey in Killing Them Softly (2012) with Brad Pitt, and he charmed us as Albert in Enough Said (2013) with Julia Louis-Dreyfus, one of his last roles before he passed away. James died unexpectedly of a heart attack in 2013 at the age of 51.