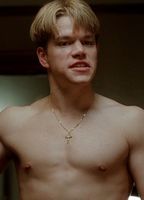 Keywords: Brief Nudity, White, Brown Hair
Nude Roles: 5
Birthplace: Boston, Massachusetts, US
Date of Birth: 10/08/70
Real Name: Matthew Paige Damon
Biography
With a university professor who specialized in early childhood education as a mother, Matt Damon took to acting as a child to assert his own identity. He even dropped out of Harvard to pursue a career in acting and made his film debut at the age of 18 in the 1988 romantic comedy Mystic Pizza. That's one hot slice.
In 1992, he costarred with Gene Hackman and the creepy-but-hot Jason Patric in the historical drama Geronimo: An American Legend. The movie was a flop, but five years later, Matt teamed up with his childhood buddy Ben Affleck to write the screenplay for Good Will Hunting. The movie was a hit and was nominated for nine Academy Awards, including Best Picture, and won the Oscar for Best Original Screenplay. It was our intro to Good Will's abs! That same year, Matt starred in the legal thriller The Rainmaker.
Matt teamed up with megahunks Brad Pitt and George Clooney in the 2001 classy crime comedy Ocean's Eleven. He reprised his role in two sequels, Ocean's Twelve (2004) and Ocean's Thirteen (2007).
Matt sported a lot of moose knuckle bulge in his tight neon green swimtrunks during a sexy beach scene in the psycho thriller The Talented Mr. Ripley (1999). Mr. Rippling Abs certainly is talented in the nether region! He went for a daring role when he played the bisexual partner of Liberace in Behind the Candelabra (2013) and sported tight Speedos that clung to his tight buns as he straddled his partner to make out beside the pool. What's Behind the Candelabra? Well, we hope it's a sneak at Damon's dong.
Matt's success prompted talk show host Jimmy Kimmel to make him into a running gag, which prompted Kimmel's girlfriend Sarah Silverman to record the song "I'm Fucking Matt Damon." Where do we line up?