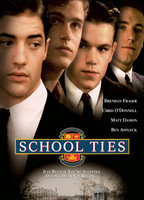 Genres:

Drama

Director:

Robert Mandel

MPAA Rating:

PG-13

Runtime:

106 Minutes

Theatrical Release:

09/18/1992

Home Release:

06/29/1999

Country:

USA

2 Blog Posts for this Title >>
School Ties (1992) is set in the 1950's and tells the story of David (Brendan Fraser) who is recruited by an elite prep school because of his skills on the football field. David, a working class Jew, is about as far removed from the other kids in this school as possible and must keep his religion and history secret or risk severe trouble.
Featuring a who's who of hotties including: Matt Damon, Chris O'Donnell, Cole Hauser, Ben Affleck and the aforementioned Brendan Fraser, this movie is like...
Join Mr. Man for the full Review >>