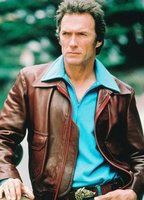 Keywords: Brief Nudity, White, Brown Hair
Nude Roles: 3
Birthplace: San Francisco, California, US
Date of Birth: 05/31/30
Real Name: Clinton Eastwood Jr.
Top Scenes
00:05:45

Clint teams up with a body double to show rump, rod and sack during a walk to his new cell. (2 mins 6 secs)
advertisement
Biography
There are very few actors that are as iconic, talented, and manly as Clint Eastwood. The steely and sexy actor has been wowing moviegoers for nearly sixty years. While most know Clint for either his memorable roles in hit Western flicks like A Fistful of Dollars (1964), For a Few Dollars More (1965), The Good, the Bad and the Ugly (1966), and High Plains Drifter (1973), or for his roles as a no-nonsense police detective in the classic films Dirty Harry (1971), Magnum Force (1973), The Dead Pool (1988), and In the Line of Fire (1993), Mr. Man is quite fond of his films where he showed some skin. The lanky actor made his nude debut, baring his chunky cheeks in the prison drama Escape from Alcatraz (1979). Too bad his dink didn't escape from his undies! Five years later, Clint's ass made another appearance, burning up the screen the serial killer thriller Tightrope (1984). With a butt like that, he'll have your hand going southward! Lastly, Clint kicked off the twenty-first century by revealing his rump during an examination scene in Space Cowboy (2000). The silver fox showed off his seat meat about 41 minutes into the flick. During the examination, you'll also see a slew of other man booties. Now that's our kind of ass-tronaut! It'll possibly make you astro-nut as well! Clint has kept his clothes on in the years since, but you can still see him looking intense as ever in movies like Million Dollar Baby (2004), The Mule (2018), and Cry Macho (2021). Eastwood will always make our wood go north!