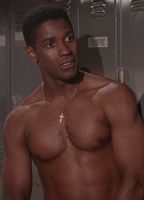 Keywords: Brief Nudity, Black, Black Hair
Nude Roles: 4
Birthplace: Mt Vernon, New York, US
Date of Birth: 12/28/54
Real Name: Denzel Hayes Washington Jr.
Top Scenes
01:06:00

After receiving a beat down, we get a brief and dark look at Denzel's meat seat. (2 mins 32 secs)
advertisement
Biography
Let's get right down to it, shall we? The most naked you will see Denzel Washington on screen is in the movie Ricochet (1991), where he plays cop Nick Styles. He's naked in a locker room, sitting down. He abruptly stands up when Bionic Woman Lindsay Wagner approaches and he ducks behind a tiny locker door. A screen grab reveals a modesty pouch, but it does nothing to hide the fact that his cock is in proportion to his 6'1" frame. If the side view of his ass isn't enough for you in this one, do yourself a favor and check out Mississippi Masala (1991), where his bare derriere is fully visible when he emerges from the sheets. Denzel, who really needs no last name, is one of the biggest movie stars in the world; a rare combination of a guy who can bring in big box office numbers and critical acclaim. He's been nominated for six Oscars and won the award twice, both for Best Actor in a Leading Role, one for Glory (1989), and one for Training Day (2001). And whether he's playing a total badass, an historical icon, or Humpty Dumpty (he voiced the character for 1997's Mother Goose: A Rappin' and Rhymin' Special), his charisma is undeniable. Fortunately for us, his fabulous frame is irrefutable, too, and the actor has given us plenty of opportunity to admire his long and lean torso, impeccable perfected pecs, and rounded biceps during multiple shirtless scenes. He strips down as Bleek Gilliam in Mo' Better Blues (1990), and as boxer Rubin Carter in The Hurricane (1999), his main wardrobe is a silky pair of shorts. You can even catch him shirtless in more serious fare, like as ATF agent Doug Carlin in Déjà Vu (2006), and pilot Whip Whitaker in Flight (2012). He's a Man On Fire (2004—yet another fabulous Denzel title).