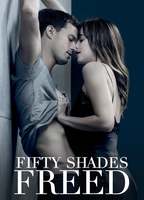 Fifty Shades Freed (2018)
Director:

James Foley

MPAA Rating:

R

Runtime:

105 Minutes

Theatrical Release:

02/09/2018

Country:

USA
(0:09)  Manbush on Jamie Dornan as he takes down his shorts to screw her.
(0:40) Jamie Dornan in shower. We see some manbush and then buns as he exits.
(0:53)  Having some fun with ice cream we see Jamie Dornan get kicked and kissed down to his man bush by Dakota. Then we see his buns as he goes to screw her.
Join Mr. Man for the full Review >>
Titles similar to Fifty Shades Freed