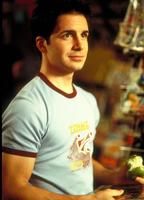 Keywords: Brief Nudity, White, Black Hair
Nude Roles: 1
Birthplace: Cincinnati, Ohio, US
Date of Birth: 09/25/69
Real Name: Hal Harry Magee Sparks III
Biography
He has hosted E!'s Talk Soup and provided the voices of cartoons, but Hal Sparks is probably most well-known for his work as Michael on the Showtime series Queer as Folk during which he literally bared it all for the audience.
Queer as Folk ran 83 episodes from 2000-2005 which gave Hal multiple opportunities to take it all off. In one episode he gives us just a quick glimpse of his compact, tight rear, but then spins around and treats us to a side helping of bush. In another scene he is lying naked on his stomach in the grass with his beautiful heart-shaped bum clearly visible. There is plenty of sex in this show including one season premier where Hal has a hook up with a guy he just met and we get to see his tantalizing tush in action as he gets busy.
Hal was comfortable doing all the nude and sex scenes in Queer as Folk because he said before they shot each sex scene the actors in it would get together with the director who would tell them what shots he needed and they would establish a protocol for how they were going to do it. This allowed him to focus more on what he needed to do for the shot instead of the fact that he was naked in front of an entire crew. Here's to hoping that Hal finds another role he likes enough that he is ready and willing to get fully nude whenever and wherever it is needed.
TV Shows
Ep. 01x16 | 00:14:34

Peter's peter, as well as his balls and booty can be seen as he hangs out in the locker room and chats with Hal Sparks! (29 secs)
Ep. 02x08 | 00:34:52

Robert's ass can be seen as he has sex with Hal Sparks on the ground! (9 secs)
Ep. 02x09 | 00:45:59

Hal and Robert get busy and we are treated to several looks at their bare asses! (26 secs)
Ep. 02x12 | 00:21:51

Robert's big muscly ass clenches as he thrusts into Hal Sparks! (25 secs)
Ep. 02x19 | 00:22:18

Robert takes down his underwear to reveal his tan-lined tush before joining Hal Sparks in bed and blowing him! (30 secs)
Ep. 02x01 | 00:31:59

Hal is completely nude, and he's completely hot, but we only get a look at his butt. (28 secs)
Ep. 02x01 | 00:30:47

Rick is all butt and muscles as he doggy pumps Hal. (7 secs)
Ep. 02x02 | 00:28:55

Hal kicks off the scene with a close up of his butt and a good view at his pubes. Peter applies some cream to Hal's ass. Hal returns the favor, and Peter shucks his pants to display his adorable butt. (1 min 38 secs)
Ep. 02x02 | 00:24:14

Gale goes ass out, while Peter shows off his abs during a moment of nude serving. Sexy! (34 secs)
Ep. 01x18 | 00:13:03

Chris and Hal make out when Chris comes home and we see Hal's ass when Chris takes off his pants to give him a blow job! (17 secs)
Ep. 01x12 | 00:12:48

Hal Sparks and Chris Potter have sex in bed with Chris showing his juicy ass. (31 secs)
Ep. 01x14 | 00:06:35

Hal Sparks and Chris Potter drink wine in bed with Chris wearing a hot little apron that shows off his booty. (32 secs)
Ep. 01x10 | 00:43:36

Chris and Hal make the best of a Sunday morning shower. (10 secs)
Ep. 01x07 | 00:31:48

Chris and Hal have sex in a park and though we get a much better look at Chris' ass than Hal's, we do get to see both of their bare asses! (40 secs)
Ep. 01x08 | 00:28:01

Chris bulges out his underwear while giving Hal a nude massage and we get a few glimpses of Hal's bare buns! (44 secs)