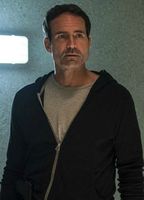 Keywords: Brief Nudity, White, Brown Hair
Nude Roles: 1
Birthplace: Queens, New York, US
Date of Birth: 06/17/66
AKA: Jason Patric Miller Jr.
Top Scenes
00:24:06

Jason shucks his shirt again, flaunting his hard body while he enjoys a cold one. (52 secs)
advertisement
Biography
True Hollywood royalty, the hunky actor Jason Patric is the grandson of legendary comic Jackie Gleason and the son of Jason Miller, who starred as Father Damien in The Exorcist (1973). But Jason's forged his own path. While he made his acting debut in the TV movie Toughlove (1985), his first big break came with a starring role as the new kid in a town full of vampires, Michael in the hit horror comedy The Lost Boys (1987). Boy, did we fall in love with him in that one! Lots of boys lost their five digit virginity to that sexy vampire flick! From there, Jason moved on to much more dramatic work, like the Robin Wright romantic drama Denial (1990). There was a lot of sexy canoodling in that flick, but somehow, while we saw a lot, Jason managed to hide his noodle under the covers every time. Cock shot denied! Jason had us patting our dick when we saw a bit of ass and bulge in After Dark, My Sweet (1990), but after starring in some lesser known stuff like Rush (1991), where he sported a very rugged looking beard, and The Journey of August King (1995), Jason hit a major bump in his road to success when he starred in the critically derided, huge action bomb Speed 2: Cruise Control (1997). But while that was a bad choice, this prime cut of man meat managed to remain an in-demand hunk. Since the best way to make sure a Jason Patric movie doesn't suck is for him to take his clothes off, there was a steamy sauna scene in Your Friends & Neighbors (1998) where Jason sweated out his toxins alongside Ben Stiller and Aaron Eckhart before him and Aaron hit the showers. Wish they were friends with benefits. Jason was knife maker James Bowie in The Alamo (2004), appeared as himself in Entourage, was the dad in My Sister's Keeper (2009), the villain in The Losers (2010), and had a long run as the kidnapped surgeon Dr. Theo Yedlin on Wayward Pines. Most recently you could catch him in the murder mystery Nightshade (2022). Not to throw shade on his career, but we really need a full nude scene before he calls it a career. Balls, ass and prick: The full Jason Patric hat trick!