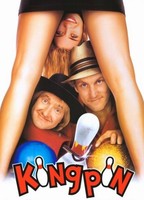 Genres:

Comedy

Directors:

Bobby Farrelly, Peter Farrelly

MPAA Rating:

R

Runtime:

113 Minutes

Theatrical Release:

07/26/1996

Home Release:

04/22/1998

Country:

USA

1 Blog Post for this Title >>
Bowling movies don't get any more striking than Kingpin (1996). But what else would you expect from the fabulous, freaky Farrelly Brothers? Nothing less than the story of a handless ex-pro bowler mentoring an Amish prodigy, with a couple of sexy scenes to give audiences a chance to catch their breath between laughs. Woody Harrelson and Randy Quaid star with their comedy chops working in full force, so it's a shame really that the Farrelly's opted to cut an uproarious skin-filled scene...
Join Mr. Man for the full Review >>
Titles similar to Kingpin