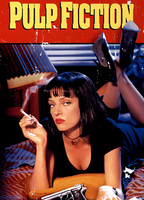 Director:

Quentin Tarantino

MPAA Rating:

R

Runtime:

154 Minutes

Theatrical Release:

10/14/1994

Home Release:

05/19/1998

Country:

USA

2 Blog Posts for this Title >>
Quentin Tarantino's groundbreaking mid-'90s classic Pulp Fiction (1994) follows the interconnected narratives of a prizefighter (Bruce Willis), two hit men (John Travolta and Samuel L. Jackson), and a gangster's moll and various other denizens of L.A.'s small-time underworld. As their worlds collide, violence ensues, lines are crossed, redemption is found and someone brings out the Gimp.
The action is intense, but the nudity is scarce.  Even the dungeon scene is nudity free. But when a...
Join Mr. Man for the full Review >>
Top Scenes
Celebs
Titles similar to Pulp Fiction