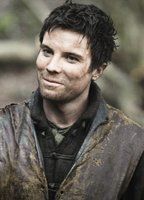 Keywords: Great Nudity!, White, Brown Hair
Nude Roles: 5
Birthplace: Liverpool, ENG
Date of Birth: 06/22/87
AKA: Joseph Dempsie
Real Name: Joseph Maxwell Dempsie
Top Scenes
Ep. 02x05

Joseph shows off his warrior physique while working on his sword handling skills. (36 secs)
advertisement
Biography
A keen fan of the keen Nottingham Forest football club, luscious Liverpudlian Joseph "Joe" Dempsie  went to the West Bridgford School in Nottingham before he made his TV debut in 2000 when he appeared on the British medical drama Peak Practice. Now if we could only practice peeking at Joseph!
In 2002, he made his first big screen appearance alongside Michael Sheen in the comedy-drama Heartlands. The next year he appeared in the comedy One for the Road (2003), a performance he followed up with roles in the UK television shows Sweet Medicine, Doctors, and Born and Bred.
But things really took off for Joseph in 2007 when he played Chris Miles on the racy teen drama Skins. Now that's a name we can give the one-handed salute to! Joseph followed this command performance with roles on the long-running cult sci-fi series Doctor Who, the fantasy mini-series Merlin, This Is England '86, and The Fades where he showed some sidebuns in an episode in which he is totally naked and strategically fading his penis away from the screen. He also appeared on the big screen in movies like the fact-based sports movie The Damned United (2009), the disaster flick Edge (2010), and the Jason Statham action flick Blitz (2011). In 2014 he has a steamy sex scene in Monster: Dark Continent (2014) in which he is standing with his back to the camera to give us a full helping of ass. And in 2011, he was cast as Gendry on the HBO sword and sorcery drama Game of Thrones. We'd rather play a game with Joseph's bone!
Filmography
00:06:54

Joseph's butt can be seen as he bangs a babe through a window! (22 secs)
TV Shows