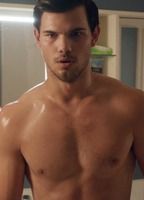 Keywords: No Nudity, White, Black Hair
Birthplace: Grand Rapids, Michigan, US
Date of Birth: 02/11/92
Real Name: Taylor Daniel Lautner
Top Scenes
00:00:10

It's raining, it's pouring, so Taylor shucks his shirt to show off his ripped body before going for a run in the woods. (12 secs)
advertisement
Biography
Legions of fans worldwide know Taylor Lautner as the oft-shirtless Jacob Black from the Twilight Saga movies, but he has been in some other movies and TV shows.
While Taylor has yet to do a full blown nude scene, he does workout and keeps his body fit and fine so his numerous shirtless scenes look as good as possible. In The Twilight Saga: Breaking Dawn – Part 2 (2012) Taylor does have a scene where he strips it all off in front of a fellow cast member. We don't get to see much, but it is pretty hot. Taylor said it was very embarrassing to shoot the scene and he had a very hard time not laughing as he got into it.
His love scene in Abduction (2011) doesn't include any nudity, but it is a pretty steamy make-out session with costar Lilly Collins. He lifts her up and the two get very into the passionate kissing. In Valentine's Day (2010) he has a handful of scenes with superstar singer Taylor Swift including one where he makes fun of himself being shirtless and a few where he wears a tank top and shorts while running track. He also makes out with her in front of a news crew.
Taylor is still young and has a long career ahead of him. He has plenty of time yet to find that perfect role where he can strip his clothes off and give us a full moon.  When he does Mr. Man will be there with bells on.