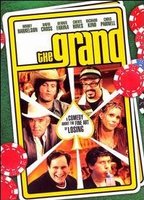 Genres:

Comedy

Director:

Zak Penn

MPAA Rating:

R

Runtime:

104 Minutes

AKAs:

Loser, Loooser - How to win and lose a Casino

Home Release:

11/05/2008

Country:

USA
This mostly improvised comedy follows several story lines that unfold during a poker tournament. Starring a wide range of interesting actors, the setup and story of this movie doesn't afford it much chance for nudity, but there are a few moments that should have you pushing your chips all in.
Woody Harrelson plays a wild guy with some serious mutton chops who finds himself in bed with a woman. The scene is pretty tame, but we get Woody in a sleeveless shirt and his boxers. He oozes a certain...
Join Mr. Man for the full Review >>
Top Scenes
Celebs
Titles similar to The Grand