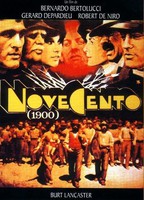 Director:

Bernardo Bertolucci

MPAA Rating:

R

Runtime:

245 Minutes

AKA:

Novecento

Theatrical Release:

11/04/1977

Home Release:

12/05/2006

Countries:

France, Germany, Italy

2 Blog Posts for this Title >>
Novecento (1976) follows the lives of two men from different classes (one's a peasant, the other a landowner) during the rise of fascism in turn-of-the-century Italy. If you're still reading, there's four ample reason to sit through the heady proceedings and they come in the hunky nudie form of Pavesi Paolo's uncut unicorn, Roberto Maccanti's man meat, Gerard Depardieu's Frenchie ooh lalas and a rare showing Robert De Niro's de booty. The uncut film is even more controversial, featuring...
Join Mr. Man for the full Review >>
Top Scenes
Celebs
Titles similar to 1900