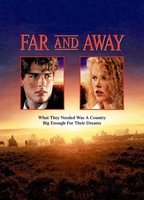 Director:

Ron Howard

MPAA Rating:

PG-13

Runtime:

140 Minutes

Theatrical Release:

05/22/1992

Home Release:

06/23/1998

Country:

USA

1 Blog Post for this Title >>
Joseph Donnelly (Tom Cruise) isn't enjoying the luck of the Irish in Far and Away (1992).  After his father's death and a beef with his evil landlord, Joseph flees Ireland for America with big dreams of becoming a land owner.  He brings some extra baggage in the form of Shannon, the landlord's daughter who's grown tired of his shenanigans as well.  Will there be a pot of gold at the end of the land rush, or will Joseph end up without any lucky charms in America as well?
A young, buff Tom...
Join Mr. Man for the full Review >>
Top Scenes
Celebs
Titles similar to Far and Away