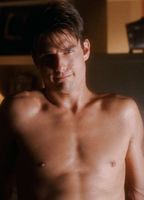 Keywords: Great Nudity!, White, Brown Hair
Nude Roles: 6
Birthplace: Syracuse, New York, US
Date of Birth: 07/03/62
Real Name: Thomas Cruise Mapother IV
Top Scenes
01:04:05

Watch Tom in one of best scenes, showing off his chiseled body, pubes and brief peek at the tip of his penis as he gets ready to plow his ladylove. Tom certainly has all the right moves! (1 min 18 secs)
advertisement
Biography
Everyone knows Tom Cruise as one of the biggest movie stars in the world who has been in some of the most iconic movies of all times. From his star making turn in All the Right Moves (1983) to Top Gun (1986) to his award winning turn in Born on the Fourth of July (1989) to numerous other movies that are household names, Tom has been a part of our lives for more than 20 years. But did you know that he has gone full frontal in a movie?
We get to see a young Tom's tight tush in Taps (1981). We also get another view of his cute butt in Far and Away (1992). He is shirtless and showing off his always in shape, toned chest in multiple films, but it is in the aforementioned All the Right Moves where he has his pants unbuttoned and his little jet fighter is on full display. After seeing that scene it is safe to say that if they ever make a movie called A Few Large Men, Tom is ready to play the leading role.
Tom has never been shy about doing what it takes to make a part right - going so far as to volunteer to shoot a scene in assless chaps without any underwear for Rock of Ages (2012). When told that there would be an extreme close-up of his bare ass now 50-year-old Tom just told them to go for it. Fast forward to 2017, and he was still keeping it up at age 55 when he mooned the camera in American Made. It is that kind of attitude that has made him a star and hopefully will keep him hot, naked and popular for years to come.