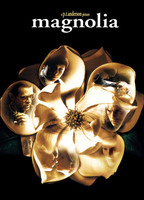 Director:

Paul Thomas Anderson

MPAA Rating:

R

Runtime:

188 Minutes

Theatrical Release:

12/08/1999

Home Release:

07/25/2000

Country:

USA

2 Blog Posts for this Title >>
Paul Thomas Anderson's Magnolia (1999) is a sweeping, ambitious work that captures twenty-four hours in the lives of seemingly unconnected characters in Los Angeles. Julianne Moore is a beautiful trophy wife who married her rich older husband for his money. As he lies on his deathbed, she is stricken with guilt because she grew to truly love him. Lonely cop John C. Reilly tries to convince coke addict Melora Walters that her baggage isn't enough to scare him away. Slimy motivational speaker ...
Join Mr. Man for the full Review >>
Top Scenes
Celebs
Titles similar to Magnolia