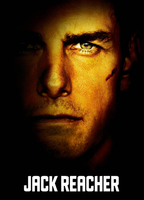 Director:

Christopher McQuarrie

MPAA Rating:

PG-13

Runtime:

130 Minutes

AKA:

Jack Reacher (2012)

Theatrical Release:

12/21/2012

Country:

USA

1 Blog Post for this Title >>
Tom Cruise may be a munchkin, but this 5'7" superstar has a habit of playing larger than life characters. Case in point:  the hyper-intelligent, hyper-masculine title character in the spy adventure Jack Reacher (2012) . Maybe he's trying to compensate for something? Tom doesn't show us enough Dick (or Harry) in this flick to be sure, but we'd still give him a Jack Reacharound. 
Join Mr. Man for the full Review >>
Top Scenes
Celebs
Titles similar to Jack Reacher