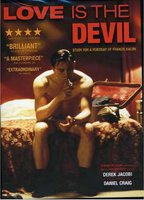 Director:

John Maybury

MPAA Rating:

NR

Runtime:

90 Minutes

AKA:

Love Is the Devil: Study for a Portrait of Francis Bacon

Theatrical Release:

10/07/1998

Home Release:

04/04/2000

Countries:

France, Japan, UK

4 Blog Posts for this Title >>
This drama, set in the 1960's, examines the life of British painter Francis Bacon. One night when a burglar breaks into his house, instead of calling the police, Bacon invites him into bed. What follows is a torrid love affair as Bacon and his much younger burglar turned lover forge a strained, crazy relationship.
Daniel Craig plays the younger burglar with a vigor and fearlessness that would make James Bond proud. The two have some pretty intense love scenes including one that takes place in...
Join Mr. Man for the full Review >>
Top Scenes
Celebs
Titles similar to Love Is the Devil