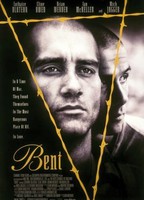 Director:

Sean Mathias

MPAA Rating:

R

Runtime:

105 Minutes

Theatrical Release:

11/28/1997

Countries:

Japan, United Kingdom
Based on the 1979 play Bent (2007) tells the harrowing tale of Max (Clive Owen) a promiscuous gay man in 1930's Germany.  Max and his boyfriend Rudy are arrested and put on a train to Dachau.  On the train Rudy is beaten by the guards and killed and max denies his homosexuality.  At the prison camp, Max falls in love with Horst (Lothaire Bluteau) who teaches him the peace that comes with accepting who you are.
This is a very skintense film peppered with some tasty morsels of nudity to help...
Join Mr. Man for the full Review >>
Top Scenes
Celebs
Titles similar to Bent