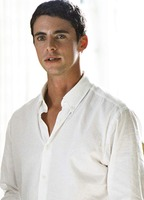 Keywords: Brief Nudity, White, Brown Hair
Nude Roles: 6
Birthplace: Exeter, Devon, ENG
Date of Birth: 04/03/78
Real Name: Matthew William Goode
Top Scenes
00:35:32

Colin longingly looks at a nude photograph of Matthew Goode. (13 secs)
advertisement
Biography
We've got it bad for Goode. Matthew Goode, that is. Born in Exeter, Devon, to a geologist father and a mother who was an amateur theatre director, this brawny Brit was born with rocks in his jock and the theater in his blood. After he learned the craft of acting at the University of Birmingham and London's Webber Douglas Academy of Dramatic Art, Matthew got his first role alongside Stockard Channing in the made-for-TV fairy tale adaptation Confessions of an Ugly Stepsister. Strangely, he wasn't Prince Charming.
Two years later, Matthew got the attention of American audiences when he was cast as Mandy Moore's love interest in the 2004 romance Chasing Liberty. In 2005, he appeared alongside the equally hunkadelic Jonathan Rhys Meyers in the Woody Allen romantic comedy Match Point (2005) and also played a guy whose hot young wife runs off with lesbian Lena Headey in the comedy-drama Imagine Me and You. Oh, we are Matthew. We are.
Matthew went very naked for a sex scene in his third film ever South from Granada (2003) in which we see every angle of him from his tight booty to his soft peen. Oh, so that's what's South from Granada! In Burning Man (2011) he gives us burning ass in plenty of views of his athletic bod. 
Matthew went on to star in the 2008 adaptation of Brideshead Revisited, and played the sexy but sinister supervillain Adrian Veidt/Ozymandias in the blockbuster comic book adaptation Watchmen. And believe us, watching men isn't a problem when Matthew Goode is around.
Matthew made Goode on his sex scenes in an episode of The Crown (2016) in which he has a dimly-lit sex scene, shares a lot of screen time shirtless and even lays in bed post-threesome. We give The Crown of sexiness to Matthew! 
Filmography
TV Shows
Ep. 01x01 | 00:20:14

Matthew teases some ass while cuddling with his lady friend. (14 secs)