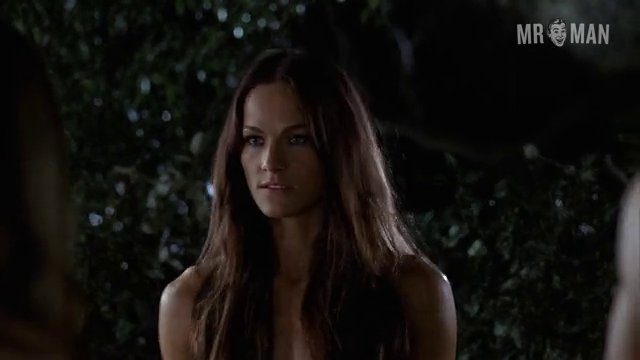 Description
A strangely sexy collection of naked monsters and mutants
Keeping with the Halloween theme, Mr. Man has painstakingly put together a playlist full of hunks getting in touch with their more beastly side. These big screen and boob tube beefcakes portray monsters and/or mutants that aren't afraid to show off their manhood. These sexy scenes of morphing men will make you go more than just bump in night!
It's fangs and ass from Alexander Skarsgård during a late night banging in True Blood. The sci-fi flick Starman gives us a glimpse of Jeff Bridges' butt during a morphing moment. Joe Manganiello transforms from wolf to man, showing his hindquarters in the process in True Blood. If you're a cat person, you'll love Malcolm McDowell's full nude performance in Cat People. It's a fully nude birthing scene from Julian Sands in Warlock: The Armageddon. Comic books turn real sexy as Hugh Jackman goes crazy and shows his ass in the lab in X-Men Origins: Wolverine. True Blood strikes again by showing us Stephen Moyer's butt during a steamy scene. It's brief, but the hunky Gerard Butler teases some ass while elevating with his lady in Dracula 2000. The shape shifting Sam Trammell trots out his tail in True Blood. It's twice the beefcake when Martin Kemp and Harold Pruett go ass out during a threesome in Embrace of the Vampire. Who doesn't like a hairy man, especially when that man is Miguel Godreau teasing his ass in Altered States. Rory Kinnear wows us with his seat meat in Penny Dreadful. Anthony Konechny bulges out and flaunts his abs in Witches of East End. We get side butt and pubes from Landon Liboiron in Hemlock Grove. Even though he's completely nude, Shing-Cheung Lee keeps his good parts covered in Journey to the West. Noah Danby is an alien beefcake in Defiance. Ben Stiller feeds our mermaid fantasies in Zoolander.
These monstrous men will have your loins moist and morphing!