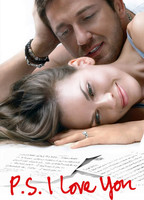 Director:

Richard LaGravenese

MPAA Rating:

PG-13

Runtime:

126 Minutes

Theatrical Release:

12/21/2007

Home Release:

05/06/2008

Country:

USA

2 Blog Posts for this Title >>
Holly (Hilary Swank) spends 10 years happily married to Gerry (Gerard Butler), the man of her dreams. He suddenly gets ill and dies which brings her world crashing down. Little did she know, before he died he wrote her 10 letters that will be sent to her at different times in her life. The letters are meant to help her move on and have a happy life once he is gone.
This rom-com is a little light on skin, but it is heavy on the sexy. There are some hot guys here and there are a few scenes that...
Join Mr. Man for the full Review >>
Titles similar to P. S. I Love You