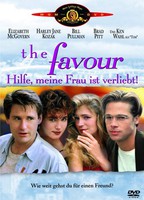 Director:

Donald Petrie

MPAA Rating:

R

Runtime:

97 Minutes

AKAs:

The Indecent Favour, The Favour

Theatrical Release:

04/08/2013

Country:

USA

2 Blog Posts for this Title >>
In The Favor (1994), Kathy is married to Peter (Bill Pullman) but things are getting a little dull. As her high school reunion draws near, she starts fantasizing about what could have been with her ex-boyfriend Tom (Brad Pitt). She won't cheat on Peter, so she asks her best friend Emily to hook up with Tom and give her all the dirty details so she can have a vicarious thrill. That might not be the best idea for either one of them. A young hot Brad Pitt and his bare chest will make you forget...
Join Mr. Man for the full Review >>
Top Scenes
Celebs
Titles similar to The Favor