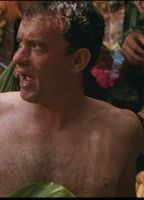 Keywords: Brief Nudity, White, Brown Hair
Nude Roles: 2
Birthplace: Concord, California, US
Date of Birth: 07/09/56
Real Name: Thomas Jeffrey Hanks
Top Scenes
00:24:15

Tom Hanks emerges from the shower to show off his pubes. Looks like Forrest has a forest growing down there! (18 secs)
advertisement
Biography
When you think Tom Hanks you might think funny, comedy or even drama. You might just see the name and think of him as one of the greatest actors of his generation. Many people don't think of him as a sex symbol, but he is smart, charming, funny and talented and that can be very sexy. Over the years he has shown off some of his goodies on the silver screen.
During his Oscar winning turn in Forrest Gump (1994) Tom gives us a quick shot of his bush as he gets out of the shower and walks in front of the camera covering up his naughty bits with a towel. Later in the same movie we get a couple of partial butt shots.  Cast Away (2000) brought Tom another Oscar nomination for Best Actor and another great shot of his butt peering through some ripped up shorts. Later in his career Tom starred as Charlie Wilson in the bio-pic Charlie Wilson's War (2007) where we finally get a fully unobstructed view of Tom's sweet cheeks. The shot comes early in the movie where Tom, at a party, is sharing a hot tub with several people. He climbs out, is fully nude and we see him from behind as he walks away.
It almost seems like Tom is getting bolder as he gets older. He is still in good shape so perhaps this bosom buddy will do us a solid and go full frontal sometime in the near future.