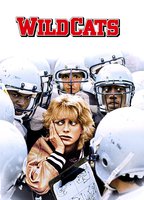 Director:

Michael Ritchie

MPAA Rating:

R

Runtime:

106 Minutes

Theatrical Release:

02/14/1986

Home Release:

04/01/2003

Country:

USA

1 Blog Post for this Title >>
Molly McGrath is a High School track coach who loves football.  She knows everything about it.  When the head football coach position becomes vacant, Molly takes the job.  The rest of the staff scoff, her ex-husband protests and her team the Wildcats (1986) have to come to grips with having a woman as a coach.  Some of the team (Wesley Snipes and Woody Harrelson) take a little more convincing than others.  It will take a real 'hail Mary" fro Molly to succeed.
There are a lot of hot young...
Join Mr. Man for the full Review >>
Titles similar to Wildcats