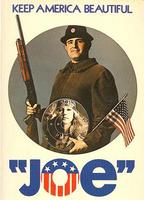 Director:

John G. Avildsen

MPAA Rating:

R

Runtime:

107 Minutes

AKA:

The Gap

Theatrical Release:

07/15/1970

Home Release:

04/16/2002

Country:

USA

1 Blog Post for this Title >>
Drama thriller Joe (1970) tells the story of Bill (Dennis Compton) a wealthy businessman who confronts his daughter's junkie, drug-dealing boyfriend. During an argument a fight breaks out and Bill kills the boyfriend. Panic-stricken, he ends up in a bar where he meets a man named Joe (Peter Boyle) who hates anyone that is different from him. He would love to kill someone so Bill makes him an offer that could help them both out, but many complications ensue.
Peter Boyle shows his bare ass as...
Join Mr. Man for the full Review >>