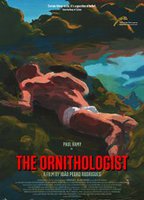 Genres:

Drama

Director:

João Pedro Rodrigues

Runtime:

117 Minutes

AKA:

O Ornitólogo

Theatrical Release:

10/20/2016

Home Release:

10/03/2017

Countries:

Brazil, France, Portugal

2 Blog Posts for this Title >>
The Ornithologist is a 2016 indie drama lauded by critics for its artful imagery and unique premise. We're lauding it for all of the dong and dumper, but more of that in a second! The flick subtly references St. Anthony, and tells his story through one ornithologist's mission to find the elusive black stork deep in the forest. When his mission goes awry, Fernando (Paul Hamy) is swept up in a wild adventure. 
As promised, the nudity in The Ornithologist is worth studying, and features full...
Join Mr. Man for the full Review >>
Top Scenes
Celebs
Paul Hamy
Nude - as Fernando / Antónioballs, bulge, butt, butthole, erect, gay, penis, sexy, shirtless, underwear
12 Pics & 6 Clips
Titles similar to The Ornithologist