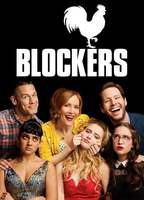 Genres:

Comedy

Director:

Kay Cannon

MPAA Rating:

R

Runtime:

102 Minutes

AKAs:

Cock Blockers, #SexPact

Theatrical Release:

04/06/2018

Home Release:

07/03/2018

Country:

USA

3 Blog Posts for this Title >>
Blockers (2018) is about three teenage best friends who make a pact to lose their virginity on prom night. The only problem? Their parents find out and decide to stop their precious teenage daughters from doing something they might regret. We wish our dads were as hot as the dads in this movie. John Cena is a total DILF when he pulls down his pants to butt-chug beer. We're drunk off those buns! Later in the movie, he shows his buns again when he is naked and blindfolded during a sexy foreplay...
Join Mr. Man for the full Review >>