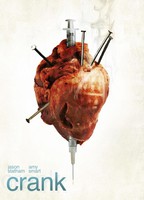 Directors:

Mark Neveldine, Brian Taylor

MPAA Rating:

R

Runtime:

88 Minutes

AKA:

Adrenaline

Theatrical Release:

09/01/2006

Home Release:

01/09/2007

Country:

USA

3 Blog Posts for this Title >>
Hitman Chev Chelios (Jason Statham) does a job for his boss. The fallout from the killing proves too much for the boss to handle, so in an effort to get rid of Chev, he hires another goon to punch Chev's ticket.  Chev is injected with a poison that will kill him if his heart rate drops past a certain level. Chev has to keep his adrenaline pumping while wreaking havoc and exacting revenge in Crank (2006).  This is one cardio exercise that can't be done on a treadmill.
Jason Statham is the...
Join Mr. Man for the full Review >>
Top Scenes
Celebs
Titles similar to Crank