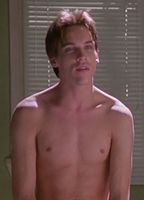 Jonathan Rhys-Meyers
Nude
Keywords: Great Nudity!, White, Brown Hair
Nude Roles: 12
Birthplace: Dublin, IE
Date of Birth: 07/27/77
Real Name: Jonathan Michael Francis O'Keefe
Biography
Cooler than an Irish spring and hotter than a hot Irish potato, delicious Dubliner Jonathan Rhys Meyers was kicked out of high school at age 16. He started spending his time in pool halls (we'll hold your cue, Jon) where he was discovered by casting agents and encouraged to go into acting. In 1994 he got his first role in the comedy-drama A Man of No Importance. If only he were a man of no clothes!
In the 1996 biopic Michael Collins he played the titular Irish freedom fighter's assassin and he followed with a role in Ang Lee's Ride with the Devil (1999). He went on to appear alongside Colin Farrell in Alexander (2004) and opposite Tom Cruise in Mission Impossible III (2006). Hottie overload!
Jonathan put on this blue suede shoes to play the King of Rock and Roll in the CBS 4-hour mini-series Elvis (2005). He put a hunka hunka burnin' love in our pants before he sent us to hard-break hotel when he shook his Elvis pelvis. He also won a Golden Globe and was nominated for an Emmy. Spank you. Spank you very much.
We definitely saw him hang dong in Velvet Goldmine (1998), Tangled (2001), The Tribe (1998) and The Governess. Yes, in ALL of those movies we see his penis. Jonathan gives no fucks when it comes to modesty. He'll take it all off and leave us with our jaw fully on the floor! We'd love to be Tangled up in his Velvet Goldmember! 
He went for just showing his ass in The Magnificent Ambersons, I'll Sleep When I'm Dead, and Black Butterfly. He also showed off his ass and went gay-for-pay in Titus and Stonewall. 
His finest hour came when Jonathan was cast in the skin-filled Showtime drama The Tudors as wife-beheading King Henry VIII. If he wanted some head, he should have come to us!
Filmography
TV Shows
Dracula (2013-2014) - as Dracula/Alexander Grayson/Vlad Tepes
Ep. 01x10 | 00:50:52

Get a quick look at Jonathan's butt after he gets done banging his lady friend. (32 secs)