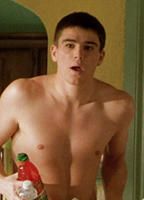 Keywords: Great Nudity!, White, Brown Hair
Nude Roles: 5
Birthplace: San Francisco, California, US
Date of Birth: 07/21/78
Real Name: Joshua Daniel Hartnett
Top Scenes
A shirtless and youthful Josh Hartnett rolls around with Kate in this cinema classic. (26 secs)
advertisement
Biography
Early in his career Josh Hartnett's good looks and roles in teen friendly dramas helped make him a hit with the tween and teen crowd. In his first few movies he was nominated for an MTV Movie Award and a Teen Choice Award. His role of Matt in the romantic comedy 40 Days and 40 Nights (2001) made him a teen heartthrob, and he made our hearts throb when he briefly bared his butt. Guys wanted to be him and girls wanted to be with him. Whether it was to maintain his image, or just by dumb luck, all we have really gotten to see of Josh in his early films are some shirtless scenes of his fine, tight body.
As he got older he moved into some more intense stuff. He solidified himself as a sex symbol and great actor in The Black Dahlia (2006). During this period piece Josh plays Dwight, a cop obsessed with solving a murder. All of our patience waiting pays off in a Skintastic way when – near the end of the movie – Josh gets naked and we see a lingering, brightly lit shot of his smooth, round, perfect butt.
Josh doesn't speak much about nudity in movies and, clearly, he only does it on rare occasion, so we were tickled pink when he gave us a clear and generous view of his muscular backside while banging some chicks in multiple episodes of the creepy Showtime drama Penny Dreadful. There's nothing dreadful about that dumper!
Filmography
TV Shows
Ep. 01x02 | 00:50:44

Josh ditches his pants so he can take a bath in the stream, letting us see his booty from a far distance. (1 min 18 secs)
Ep. 01x04 | 00:01:00

Josh Hartnett hops out of bed to show off his butt and back sack. What's your hurry, dude? (27 secs)
Ep. 01x03 | 00:24:34

Josh gives us a brief look at his amazing behind as he flips his lady friend for some missionary fun. (1 min 52 secs)
Ep. 01x01 | 00:01:00

Josh Hartnett shows some brief butt while banging a chick. Lucky gal! (16 secs)