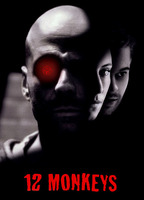 Director:

Terry Gilliam

MPAA Rating:

R

Runtime:

129 Minutes

AKA:

12 Monkeys

Theatrical Release:

01/05/1996

Home Release:

03/31/1998

Country:

USA

5 Blog Posts for this Title >>
Twelve Monkeys stars Bruce Willis as a man who is sent back in time to discover information about the beginning of an epidemic that eventually wipes out 99% of the world's population. When he is accidentally sent too far back, he must fight to stay alive and out of an insane asylum long enough to carry out his mission.
Bruce flashes some butt and gives us a quick shot of his bush and nuts in a scene where he is naked in a muddy trench in the middle of a war zone. Later, while in a mental...
Join Mr. Man for the full Review >>
Titles similar to Twelve Monkeys