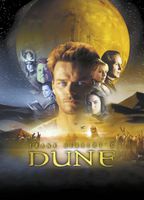 Runtime:

265 Minutes

AKA:

Frank Herbert's Dune

Premier Date:

12/03/2000

Home Release:

03/20/2001
End Date: 12/06/2000

Network:

Sci-Fi

Country:

USA
Although there have been many attempts at formatting Frank Herbert's 1965 sci fi classic Dune for the screen, few have been as faithful as director John Harrison's 2000 three part miniseries of the same name. The plot, set thousands of years in the future, is about a universe divided, with different groups looking to control all by obtaining a rare and powerful spice only available on desert planet Dune. The miniseries format allows the intricacies of Herbert's sprawling epic to unfold in...
Join Mr. Man for the full Review >>