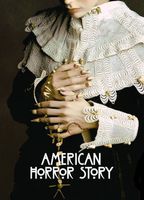 American Horror Story (2011 - )
American Horror Story is an ongoing anthology horror series that takes place in various locations and tells different, scary stories often interlaced with each other. For a show that is on basic cable, American Horror Story is exceptionally sexy, provocative, and dudity-filled.
Openly gay producer Ryan Murphy starts things off with a bang when Dylan McDermott exposes his plump ass in the first episode of the first season, Murder House. In addition to lighting a fire in the buff, Dylan...
Join Mr. Man for the full Review >>