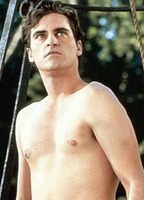 Keywords: Great Nudity!, White, Brown Hair
Nude Roles: 5
Birthplace: San Juan, Puerto Rico, US
Date of Birth: 10/28/74
AKA: Leaf Phoenix
Real Name: Joaquin Rafael Bottom
Top Scenes
02:17:17

Joaquin, sporting a comically enormous set of testicles, has sex with Parker Posey! (3 mins 33 secs)
advertisement
Biography
The third son of the famous Phoenix clan that includes gorgeous brothers River and Rain, Joaquin Phoenix started his career as a child television actor but gained worldwide attention as an adult in 2000 for his chilling role as the built bronzed stud Commodus in The Gladiator.  For those who missed out, he displayed his beautiful bulbous behind the year before in The Yards. In 2005 he won an Oscar for his role as the glorious Johnny Cash in Walk The Line. 
Joaquin later alienated audiences everywhere when he appeared on David Letterman seemingly on drugs while promoting the sexy drama Two Lovers (2008). Only Joaquin could make that wild hair look strangely sexy, even if his full-length beard hid his irresistibly intriguing lip scar. During this time he announced he was through with acting, but luckily for us, the whole thing was a joke for the Casey Affleck directed mockumentary I'm Still Here (2010). This mysterious stud went on to show some ass crack while dropping his load into the ocean in The Master (2012). For the record, Joaquin is encouraged to show us his master blaster any time he likes. 
Joaquin got shirtless again in Irrational Man which we think is a very rational thing to do. He was also sexy and shirtless in Gladiator, but our favorite part of us was as John Callahan in Don't Worry, He Won't Get Far on Foot (2018) in which he showed off his ass. Thank goodness he won't get far because we want to see more of that derriere! Joaquin is slated to play The Joker and we hope he won't be so serious about keeping his clothes on.