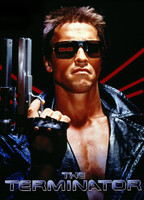 Director:

James Cameron

MPAA Rating:

R

Runtime:

107 Minutes

Theatrical Release:

10/26/1984

Home Release:

09/03/1997

Countries:

United Kingdom, USA

3 Blog Posts for this Title >>
The future is not always bright.  That's what Sarah Connor discovers in Terminator, The (1984) when a cyborg assassin (Arnold Schwarzenegger) is sent back in time to kill her and prevent the birth of her son who will grow up to lead his fellow humans in a war against the machines.  Only Kyle Reese (Michael Biehn), who also happens to be from the future can help her avoid the deadly heavy metal.
You can't travel through time without losing your clothing, which is why we see both Arnold and...
Join Mr. Man for the full Review >>
Titles similar to The Terminator